Quincy Masonic Lodge Memorial Walkway
Engraved Paver Brick Project
We invite you to participate in the Quincy Masonic Lodge Memorial Walkway brick paver fund-raiser. Each of the named bricks permanently placed in the Memorial Walkway, reflects a sense remembrance and community spirit. You can become a part of this legacy by having your name, the name of a loved one or organization, engraved on a commemorative brick and added to the walkway creating a lasting memorial.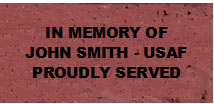 &nbsp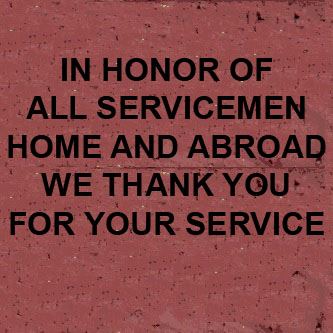 Engraved bricks can be ordered by friends and family of active and past brethren of Quincy Masonic Lodge, businesses, civic organizations, and members of the general public. All proceeds go to Quincy Masonic Lodge to be used to further support the Elwood community through various local charities.

4" x 8" bricks with 3-lines of Text: $35.00

8" x 8" bricks with 5-lines of Text: $55.00

4" x 8" Past Masters Sponsored Bricks: $25.00
Placing An Order
Before you begin: Note that all payments must be in the form of a Check. We are unable to accept cash or Credit Card at this time.
Download Order Form
Download our
Order Form
and mail it back with your payment. Multiple forms may be submitted separately for each brick.